East High School
Class Of 1968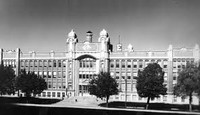 50th Reunion 2018 Aug 10&11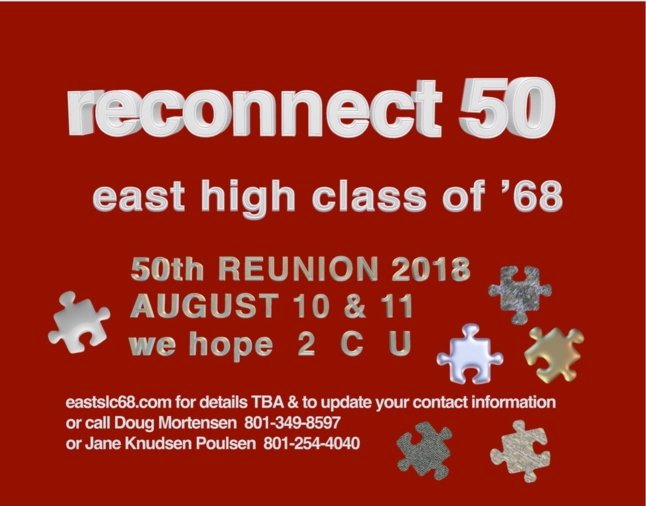 to look at a picture and remember character
to read a description and re-experience vitality
to remember a teacher and recreate the pains of labor
to picture an activity and recall the joy of momentary freedom
to observe rows of minute faces and revive feelings of comradeship
to see a letter jacket and relive the elation of victory, the crush of defeat
to open a yearbook and reflect on what was east
in fifty years will ripples change the image?
We hope you are planning on joining us for our
50th Reunion- East High Reconnect 50
August 10 & 11, 2018, in Salt Lake City, Utah
REUNION MAIN EVENTS
Friday Evening, August 10
6-10 pm
Buffet Dinner
Extremely Mini Program & Visiting, Displays
The Garden Place@This Is the Place Heritage State Park.
2601 East Sunnyside Ave
Salt Lake City UT 84108
https://www.thisistheplace.org/the-garden-place
You may go online to see the village attractions available at the Park which you may enjoy and which are available to you, during the day, that Friday only, at a reduced summer season rate of $5.
Saturday evening, August 11
6-10 pm
Light Buffet
Visiting and other activities
University of Utah Alumni House
155 Central Campus Drive. Salt Lake City, UT 84112
http://ulink.utah.edu/s/1077/images/editor_documents/house/uofusept27
We would appreciate your input on daytime activities
Please take a peek and see what piques your interest and fill out our
Interest Survey-Daytime Activities
(sidebar menu dropdown- 50 Reunion 2018 Aug 10-11)
We are continuing our search for classmates and would appreciate any help you could give in finding those we have lost over the years. The following list of 56 are those whose numbers addresses and emails are not valid currently so we have no way of contacting them directly. If you have any information on them, please email or contact us at eastslc1968@gmail.com or use the "Contact Us" link at our www.eastslc68.com website. Thank you so much!
Ballmer, Ruth Marlene
Bedell, James (Jim)
Benjasiriwan, Teerachai
Bird, Sharlene
Brock, Larry Joseph
Brushke Duffield, Deborah
Campbell, C. Kevin
Carlisle, Scott Christopherson
Carlson, Steven
Chase, Mary Alice
Cody, Belita Mae
Corporon, Judy Diane
Crawford, Kathy
Cunningham, Kayleen
Delaplaine, John
Diamond, Kenneth Dion
Dormeyer, Michael
Escott, Judy
Ford, Randall Scott
Fox, John Alvin
Greenwood, Edwin Lewis (Ed)
Hansen, Carolyn
Hanks, Barbara
Harris, Michael Alan
Hodge, Joseph
Holik, Marleen Eileen
Howell, James (Finn)
Jenkins, Bonnie Lou
Jensen, David Lynn
Johnson, Joan
Jones, Douglas B.
Jones, Randall Thomas (Randy)
Kearns, Genevieve
Kimball, Richard Albert? (Kim)
Loretto, Marjorie Elaine (Margie)
Lujan, Joseph Anthony (J.A./Joe)
Madison, Gregg
Martin, Steven James
McBride, Roslyn June
McCleery, Janette (Janet)
Mellen Long, Susan Lynn
Merrill, Jill Marie
Mitchell, Sheila
Moore, Deborah Kay (Debbie)
Morrison, Kathryn Ann (Kathy)
Pearson, Johnene
Pichayaphanich, Chutchai
Reese, Christopher J.
Robins, Renee
Sasson, Thomas G.
Simonson, Suzanne Carol
Smith, Susan Lea
Spratt, Cathy L.
Stevenson, Gayle L.
Swenson, Jon Robert
Vaile, Bryce
Worthen, Barbara
---