East High School
Class Of 1968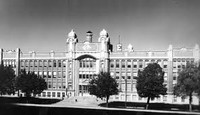 50th Reunion 2018 Aug 10&11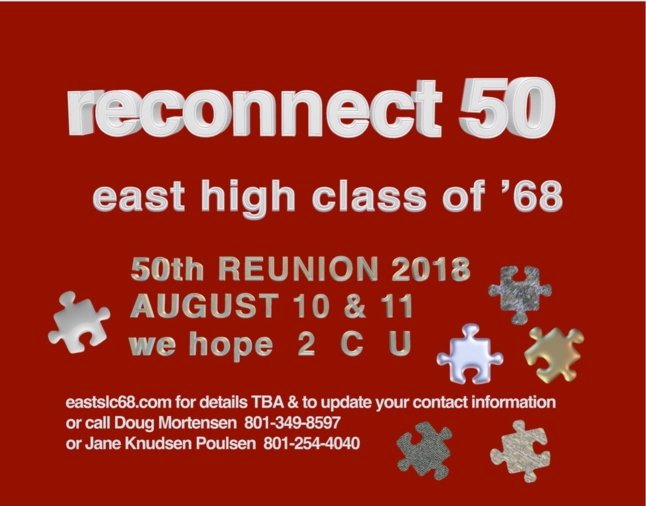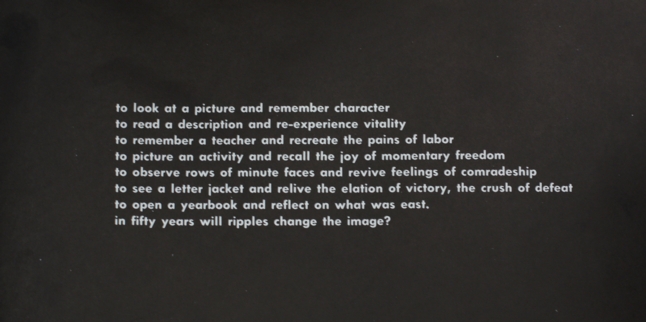 We sincerely hope you are planning on joining us for our 50th Reunion,
August 10 & 11, 2018, in Salt Lake City, Utah !
Although visiting and reconnecting will be the focus of our main events, we would appreciate your input on other possible activities which could be added for some extra fun and interaction in either large or smaller groups, depending on the activity, your interest and time. The following is a list of some of those we have planned and gathered so far, additional ideas are welcome and appreciated! Please take a peek and see what piques your interest and please email us or fill out a survey on the Survey page of the site-(when I finish putting it up) feel free to add your own ideas and comments!
Dinner, Events, Visiting
Friday Evening, August 10 at
The Garden Place@This Is the Place State Park.
You may go online to see the village attractions available at the Park which you may enjoy and which are available to you, during the day, that Friday only, at a reduced summer season rate of $5.
Saturday evening events will be at the Rice Eccles Stadium tower.
Dinner and Visiting and other activities TBA.
Other activities during the day on either Friday or Saturday are certainly possible. Some possible group activities for your consideration are:
Morning hike/walk around Silver Lake in Brighton-Big Cottonwood Canyon?
other hikes?
Pickle Ball Tournament?
Golf ?
Karaoke time in the evening?
Linda Breckenridge Blackwell would like to set up a mini reunion for band/orchestra members perhaps an hour or so before the main event on Friday or Saturday?
Tour of East High
Picnic at a Park with outdoor games
Walk around the village at This is the Place
You are certainly welcome and encouraged to contact any individuals with whom you would like to spend more time and plan to get together. Even if you do not have their personal email and they are on the site, you may click on their name and send them a message to arrange further contact with them as you wish.
We are continuing our search for classmates and would appreciate any help you could give in finding those we have lost over the years. The following list of 57 are those whose numbers addresses and emails are not valid currently and we have no way of contacting them directly. If you have any information on them, please email or contact us at eastslc1968@gmail.com or use the "Contact Us" link at our www.eastslc68.com website. Also please encourage your friends to sign into the website. If we all keep our contact information up to date, it will mean many less hours of hunting for those who are working to keep everyone included and informed. Thank you so much!
---