East High School
Class Of 1968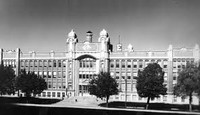 Fractured Lyrics from 1968
Catchy lyrics to match the catchy tunes from 1968-
created by Van Gessel and Steve Rich
Just for You - Hope these bring - A chuckle or two!
(Name that Tune.........it's "Yesterday" - Fractured Lyrics #3 brought to you in jest by Van Gessel)
Fifty years—
That's so long
I may dissolve in tears,
Or I'll go and drink a few (root) beers;
I can't believe it's
Fifty years.
Suddenly—
I'm nostalgic and I want to see
All my classmates just to guarantee
That they all look as
Old as me.
So I want to go,
'Cause I know
It will be great.
Not to go is wrong
'Cause I long for
Nineteen six-ty-ei-ght
Now my knees
Are constructed of titanium,
And there's nothing in my cranium—
Yes, we're the Class of Sixty-eight!
(to the tune of "Hey, Jude"- Fractured Lyrics sent courtesy of Van Gessel)
Hey, you—
Don't sit at home.
The reunion
Will make you better.
Remember to come on August the Tenth,
And the Eleventh could be even better.
(And don't say: "Naw naw naw naw naw naw naw")
---
Sing to the tune of: "When I'm 64 (68)?"
STEVE RICH VERSION
1. When we get old and losing our hair
Kinda like right now.
Will you remember that we left high school
In '68 and felt pretty cool!
When we stayed out till quarter to 3
And your mom locked the door
Chorus: We've been your friends for fifty-plus years now
Like we were before!
We're all older, too!
And you will just show up here,
We'll hang out with you!
2. We'll tell our stories, some even true!
Who can prove it now?
All our wiley escapades and close, close calls,
If you're here we'll remember it all!
Dances and dates, assemblies and games,
Who could ask for more?
Chorus: Fifty years later, we're still friends
Just like we were before!
---
VAN GESSEL VERSION
1. Now that I'm older,
Losing my mind—
(My, how time does pass!)
Will I still remember
All my Leopard chums?
Some had class,
And some were just bums.
At the Reunion
I'll search around,
Hoping I can rate:
Chorus: Someone to lead me,
Someone to feed me,
Now I'm sixty-eight.
Back in nineteen sixty-eight
We had so much to celebrate,
The future looked so great:
Class of Sixty-eight.
We were young and immature—
Now it's all a blur.
At the Reunion
Greeting old friends,
I'll be reassured:
Chorus: Someone will lead me,
Someone will feed me,
Now I'm sixty-eight.