East High School
Class Of 1968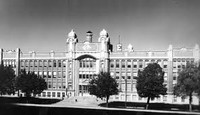 Site Information
Our website has been online for five years and you continue to fill it with your fascinating profiles, photos and communication. We continue to grow as classmates add their profiles and join our online group, enabling us to contact you quickly when events happen concerning our friends. Your support and response to posts both joyful and soulful have been full of humor, kndness, and thoughtful concern. What a dear group of people you are!
The connections and sharing have been an ongoing delight. Thank you for participating!
You are welcome to join by going to Classmate Profiles and adding your information. Please continue to update your contact information if there are changes, so we do not lose you. Many of you continue to update -thank you! If you know of classmates who have not signed on, please encourage them. Several have been a little daunted by the computer experience.
You determine what information you wish to share with the group or individuals, by noting your preferences as you enter your profile. Only information you want to share is visible.
All information is confidential and access to the site is limited to our class and limited guest members.
When you sign in and create your profile, you will have increased access to announcements and communications with the group or individual classmates through the site without publishing your email or other information.
We hope you will sign in, participate. and continue to make our site a delightful place to visit.
Let's continue to create a place to share what is happening in our lives and to connect with friends-a speedy and joyous option for communicating with each other.
Thank you for signing in and sharing your life with us.
On behalf of our gang of '68 (that's you!)
if you need help or have concerns or comments, the site email address is:
eastslc1968@gmail.com
Our domain name is
eastslc68.com
current site administrator: kristen welling beckstead
(so you know who you are talking with :) )
If you enjoy using Facebook, you can do all the things you can do on our class web site from inside Facebook. Class Connection, is the name of the app to access the site through Facebook and you'll find it's very simple to join and use. If you wish to have this additional way to connect, please follow these 3 quick steps:
Log into our class web site at eastslc68.com
Click the "Class Connection" link under Member Functions.
On the Class Connection Join Screen click the blue "Join Class" button and accept the app permissions.
Signing on through Facebook will not affect your usual site access-you may use both. It is an additional way to access the site and conmmunicate with class friends who are on Facebook.