East High School
Class Of 1968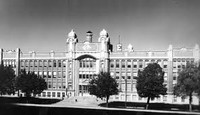 Message Forums
Welcome to the East High School Message Forum.
The message forum is an ongoing dialogue between classmates. There are no items, topics, subtopics, etc.
Forums work when people participate - so don't be bashful! Click the "Post Response" button to add your entry to the forum.
| | | |
| --- | --- | --- |
| | | |
08/19/13 01:15 PM
#4

Deciding to attend was a good choice for me. Through the kindness and warmth of all those I spent time with Fri/Sat I've been able to realize closure to that part of my life so rudely truncated during Xmas of '66. Special thanks to Eric, Ron, Kristen, Jane, and Nancy for their hospitality and cordiality. My wife has remarked to several in our family about the extraordinary atmosphere we felt at this reunion. I also wish to express my gratitude to all the classmates who befriended me during the Soph/Jr years. Those simple acts made all the difference in helping me make it through the domestic struggles. I think of many of you as extended family. I regret not having the opportunity to visit with those I knew who did not attend, and hope we can all find our way to the next. This event has been just what I needed to "get back in the saddle" in life. I love you all.
09/02/13 05:46 PM
#5

I have had so much fun lookimg at these pictures! There are some people I recognized right away - Maggie Strasser and of course the Wolfe twins - and when I look at the pictures that have the names on the bottom, I am to recognize some of the people. It looks like you guys had a great time! I plan on being there for our 50th! Maurine Rapp Zarek
03/13/15 11:30 AM
#6

Another sad loss of an outstanding classmate. Steve Leonard's passing is a loss of someone who made friends with no hesitatation of class standing, race, or color. I always appreciated the fact that Steve was outgoing and friendly to everyone. I'm sure through out the years he was a "Christian" to all in every sense of the word.

God bless his family and wife at this time of mourning.

Jay Hall
03/14/15 06:50 AM
#7

Well said Jay, very well
03/15/15 12:30 PM
#8



The best Class of East High School 'Class of 68'
Jay Slaughter
03/16/15 08:54 AM
#9

Its times like these that brings us and the important memories together again, unfortunately, rather than more memorable and less compelling moments. But all the same it is good to know there is still a semblance of that family we all are part of....East High 1968. Nobody can take that away from us. It is to be cherished. It is to be remembered.
03/17/15 08:51 AM
#10

To all,

I remember all of you so very fondly. Some, perhaps, more than others, but so many of you as being very kind to me. I always felt terribly shy, but I know it was somewhat of a hard time for many of us.

My remembrances of Steve Leonard are of a very kind, loving person. My heart goes out to his family. He will be remembered fondly. All of you are in my heart.
03/18/15 10:42 AM
#11

I remember Steve, he was a great person, and was a lot of fun to be around, I hope his family is comforted in the fact that he was loved by all of us at East High. God bless him, and may he rest in peace.
07/29/18 02:59 AM
#12

I am ramping up for the 50th Reunion, and I hope you all are, too. This is the biggie. If you want to see old friends and recall and add memories, this is it, this is the time. Half of them won't be around in ten more years. I soberly see we have all changed some and feel what life has added to me, but we all share the same 3 communal and truly formative years. We need to now share how it shaped us, helped us, held us back, now wished we had figured these things out earlier. Some of us are still trying to connect dots, but our friended comments from classmates who share this same communality, shared the same three years may just do it. We should stop wasting opportunities like these this far into life. And I don't just mean the reunion. This forum gives us an opportunity to express as well. Just keep it civil and respectful. We used to...people seem to not learn that today.
07/29/18 01:16 PM
#13

Thank you Ric for your thoughtful message to us all. I am looking forward to seeing you and so many others at the reunion!
07/29/18 02:08 PM
#14

I am sorry I won't be joining the group for this upcoming reunion. We will be out of town attending a long-overdue FAMILY reunion/ I hope you have a wonderful time together!.
07/30/18 07:34 AM
#15

I was looking forward to this reunion for 3 years! Unfortunately I will not be able to attend. I live in Delaware right now and we had planned and booked flights for our visit to New Mexico (where we are building our retirement home) and it is on the same weekend as the reunion. Should there be a 55 year reunion, I'll be there! And a lot closer! Please post pictures!
08/01/18 08:25 AM
#16

Sorry I won't make it to the reunion. My husband and I are serving a mission in Nauvoo, Illinois and will not be returning home until the end of September. Maybe next time we'll be able to come. Thanks to those who have contacted me about the reunion.

JoAnne Tolman Barlow
08/02/18 03:18 PM
#17

I am sorry I won't be able to attend this reunion. I enjoyed the last one and hope I'm still going strong for the next one. We will be attending a family reunion with family we haven't seen for a long time. Have a great time!
08/03/18 04:49 PM
#18

Carolyn Marie McFarland (Ford)

My 28 fabulous grandchildren. unfortunately my oldest son Adam was in New York at the time this picture was taken.
08/03/18 05:13 PM
#19

The registration deadline is TODAY,

AUGUST

3. If you want to come, you still can, if you notify us today with the particulars per the registration form and promise to pay the registration fee (even if you change your plans and do not come-we pay the caterer today with the count we give today). The deadline is necessarily set by the caterer, not us. We can add you to the dinner/drink numbers we submit to the caterer

TODAY,

if you promise to pay at or before the event and call or email your registration TODAY.

Scan or take a photo of your registration form (both sides, please) and email it to

eastslc1968@gmail.com

, or call Doug 801 349-8597 or Ron 801-487-6320 or 801-599-3970 with #s and names.

Mail in your check to Doug Mortensen at 2174 East Melinda Lane, Salt Lake City UT 84109.

If your registration is in the mail and you're not sure if it made it in time, call and make sure we have you in the count, too, please.

To the tune of "YESTERDAY" by the Beatles

Lyrics transformed and updated by Steve Rich

Fifty years,

Now the time for our reunion nears,

When we greet old friends with smiles and tears,

Can you believe it's fifty years?

Suddenly, I find I'm immersed in memory,

Of our youth and how things used to be,

In light of our maturity.

We'll talk fam'lies or reminisce,

But who can say?

Man! It's been so long!

I remember yesterday….

Football days!

We'd break bones now, if we tried to play.

And our knees won't take it anyway.

We all were heroes, yesterday.

Come and see,

All your classmates as they've come to be.

How we spent our bright futurity.

We all grew up, eventually.

We get wise and kind with perspective,

So they say.

Don't pass this one up!

August 12th, it's yesterday!

ACT TODAY-Call or Email-Don't Pass This One Up!

Today is August 3!
08/03/18 05:40 PM
#20

Sorry, will not be able to attend the 50th. Will miss seeing you all. Contact me at

julie.anderson@yahoo.com

Love & best wishes to all, Julie Anderson
08/05/18 12:15 PM
#21

Linda Fay Breckenridge (Blackwell)

I'd like to give all former orchestra/band members one last reminder of our get-together on Friday,

August 10th at 4pm at the main venue, The Garden Place. We will have pictures from our old yearbooks,

our '68 recording for listening memories and live music! So far there are 12 of us committed to attend.

We would love to visit with everyone who was in the orchestra/band during any of our three years.

Let's remind each other how really cool we were in high school!

Jane, Bill, KayLee and Linda
08/06/18 08:07 PM
#22

I will be there with bells on my toes.......what key you want them in??
08/10/18 04:00 PM
#23

Message from Gaynell Houston Hoskins -(posted for her by Kristen and sent to Jane )

Ok ... I'm guilty of waiting till the last minute. 50 years ago I was Gaynell Houston. I am now "Nellie" Hoskins. I also answer to Honey, Nana and OLD WOMAN ... 4 children, 10 grandchildren with a new little one due in October that will make me a great grandma. We are very blessed. Health issues are keeping me from attending the reunion. Home is now Spring Hill, Florida ... my heart is full of memories of being part of "The Class of 1968."
08/11/18 09:16 AM
#24

Susan Irene Porter (Beckstead)

Greetings from San Francisco, so sorry I am unable to attend this wonderful reunion. Met with some of the committee members in the spring and know how much time they have put into planning this event. Bravo to them. My busy schedule did not allow for me to get away this weekend☹️☹️ Feel free to contact me at bvw02@hotmail.com or "Friend me" on Facebook.

I have a lovely studio that I rent out at East High discount prices. My 1880 Victorian is in the heart of the city, be a fun way to see you and reconnect. I just updated my profile, pictures of the house are there.

Enjoy and go Leopards.
08/12/18 10:01 AM
#25

I too am stunned that these 50 years that have past - unbelievable! I wish I could be there to see everyone and share memories, as well as news of our lives. I have been in New York City for 15 years with husband Don, a professor at NYU. I am an "art-educator" at two fabulous museums here.

We are thrilled to welcome our first grandchildren this year (we are slower underachiever - some of you have great-grandchildren!)

Greetings to all, Frances Clark Garrett
08/12/18 05:00 PM
#26

Thank you to the organizers for making the Class of '68 Reunion so perfect. Made me realize that those were amoung the best 3 years of my life. I am proud to have had the privilege of attending East High and knowing so many bright and talented people. Even now when I look through the Eastonian I am amazed at the level of accomplishment. Thank you all for lifting me up with you.
08/13/18 07:44 AM
#27

Mirjam Elizabeth Visser (Duffin)

What a wonderful and memorable reunion. Thanks to all for their hard work to make it a success!

I was unable to attend any of the Saturday events, and feel I missed an opportunity to spend more time with all my classmates. What a thrill it was to see old friends, and to make new friends.

My husbands alma mater called it quits after their 50th reunion, but I'm glad there is already talk of a 55th for us Leopards.

Thanks again to all that helped make this such an enjoyable reunion.
08/13/18 01:39 PM
#28

Thanks to everyone who worked so hard to make our 50th reunion a success! I was sad to miss Friday night, but glad I could at least be there Saturday. It was wonderful to see so many of you who are such a part of my life and who I am, knowing that those friendships last and we are there for each other. I hope everyone will continue to keep in touch. God bless you all.