East High School
Class Of 1968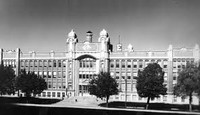 Message Forums
Welcome to the East High School Message Forum.
The message forum is an ongoing dialogue between classmates. There are no items, topics, subtopics, etc.
Forums work when people participate - so don't be bashful! Click the "Post Response" button to add your entry to the forum.
08/19/13 08:53 AM
#2

Hey Guys! A great kudo for those who put all their time into preparing the reunion. I really enjoyed it and wished we had more time to reminisce. And thanks for the efforts to try to find the lost sheep. We get so wrapped up in the struggles of our individual worlds we forget where we came from. Maybe we can use this forum or website like a facebook without the rest of it to catch up on our friendships. I'm game. Ric Olsen.
08/19/13 12:41 PM
#3

Ditto to Ric Olsen's post.

I had a great time reconnecting with so many people who were important in my life from our East High years. I hope that many more will use this forum to keep in touch.

Thank you to all who worked so hard to make the reunion so successful! It was perfect. Thanks to Kristen for launching and maintaining this website.

God bless you all.

Nancy Spencer Woodbury
08/19/13 01:15 PM
#4

Deciding to attend was a good choice for me. Through the kindness and warmth of all those I spent time with Fri/Sat I've been able to realize closure to that part of my life so rudely truncated during Xmas of '66. Special thanks to Eric, Ron, Kristen, Jane, and Nancy for their hospitality and cordiality. My wife has remarked to several in our family about the extraordinary atmosphere we felt at this reunion. I also wish to express my gratitude to all the classmates who befriended me during the Soph/Jr years. Those simple acts made all the difference in helping me make it through the domestic struggles. I think of many of you as extended family. I regret not having the opportunity to visit with those I knew who did not attend, and hope we can all find our way to the next. This event has been just what I needed to "get back in the saddle" in life. I love you all.
09/02/13 05:46 PM
#5

I have had so much fun lookimg at these pictures! There are some people I recognized right away - Maggie Strasser and of course the Wolfe twins - and when I look at the pictures that have the names on the bottom, I am to recognize some of the people. It looks like you guys had a great time! I plan on being there for our 50th! Maurine Rapp Zarek
03/13/15 11:30 AM
#6

Another sad loss of an outstanding classmate. Steve Leonard's passing is a loss of someone who made friends with no hesitatation of class standing, race, or color. I always appreciated the fact that Steve was outgoing and friendly to everyone. I'm sure through out the years he was a "Christian" to all in every sense of the word.

God bless his family and wife at this time of mourning.

Jay Hall
03/14/15 06:50 AM
#7

Well said Jay, very well
03/15/15 12:30 PM
#8



The best Class of East High School 'Class of 68'
Jay Slaughter
03/16/15 08:54 AM
#9

Its times like these that brings us and the important memories together again, unfortunately, rather than more memorable and less compelling moments. But all the same it is good to know there is still a semblance of that family we all are part of....East High 1968. Nobody can take that away from us. It is to be cherished. It is to be remembered.
03/17/15 08:51 AM
#10

To all,

I remember all of you so very fondly. Some, perhaps, more than others, but so many of you as being very kind to me. I always felt terribly shy, but I know it was somewhat of a hard time for many of us.

My remembrances of Steve Leonard are of a very kind, loving person. My heart goes out to his family. He will be remembered fondly. All of you are in my heart.
03/18/15 10:42 AM
#11

I remember Steve, he was a great person, and was a lot of fun to be around, I hope his family is comforted in the fact that he was loved by all of us at East High. God bless him, and may he rest in peace.