East High School
Class Of 1968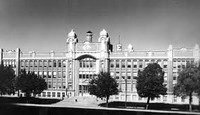 just in time to celebrate
Happy 100 years to our East High!
1914-2014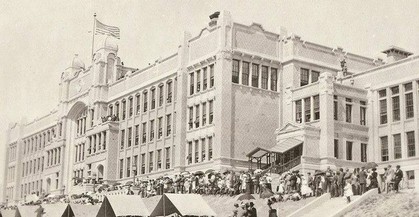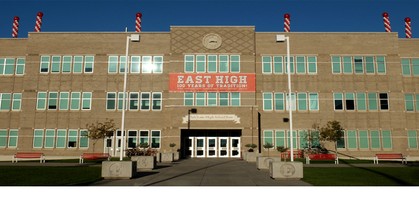 Activities began September 20, 2013 with East High Homecoming
Eric Johnson posted homecoming game photos @
East High Photo Gallery.
You are welcome to check them out.
Thanks, Eric!!
For further details on continuing activities please explore these sites.
https://www.facebook.com/EastHigh100
The 100 year celebration committee is gathering information
-to assist them please click the link below
https://docs.google.com/forms/d/1c558QyKbWgAX3r82h-QZ-tWU0JUyOSZevCuVuX26amc/viewform?edit_requested=tru
ANNOUNCEMENTS
2013
"With a Little Help from Our Friends"
We celebrated...
100 years *** East High
45 years *** Class of '68
Thank you for coming and sharing your friendship.
Thank you for traveling and being with us.
It was delightful to be with you,
hear your voices, and your laughter
and share your lives again for a little while.
Thank you for being such kind and thoughtful friends, always.
Thank you to Ron and Jane for organizing the festivities
and leading the charge to find every "one".
Thank you to the committees:
"The Searching Wonders" and
"The Planning and Production Crew".
Thank you to Le Jardin and their staff for their
generosity and marvelous service.
Thank you to Eric Johnson for hosting us
at his beautiful home in Park City.
If you could not join us this year,
we missed YOU!
We will be together again in 2018
at our 50th Reunion!
Some of our photos are posted-
still more to come.
Please enjoy these wonderful smiles.
Priceless.
+++++++++
This is your website -it is FREE to you.
We welcome you to join by going to classmate profiles and adding yours.
You determine as you enter your information what information you wish to share with the group or individuals.
Only information you want to share is visible.
You specifically may or may not give your permission as you enter each field.
All information is confidential and access to the site is limited to our class.
When you sign in and create your profile, you will have increased access to announcements and communications
with the group or individual classmates through the site without publishing your email or other information.
We hope you will sign in and participate. and help us make this site what you would like it to be.
Our thought is to create a way for us to share what is happening in our lives and to connect with friends
with whom we may have lost contact.
We hope to make it a useful and joyous option for communicating with each other.
Thank you for signing in and sharing your life with us.
if you need help or have concerns or comments, the site email address is eastslc1968@gmail.com
Our domain name is eastslc68.com
Thanks for finding us!
on behalf of the gang of '68 (that's you!)
current site administrator: kristen welling beckstead
(so you know who you are talking with :) )