East High School
Class Of 1968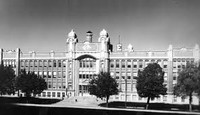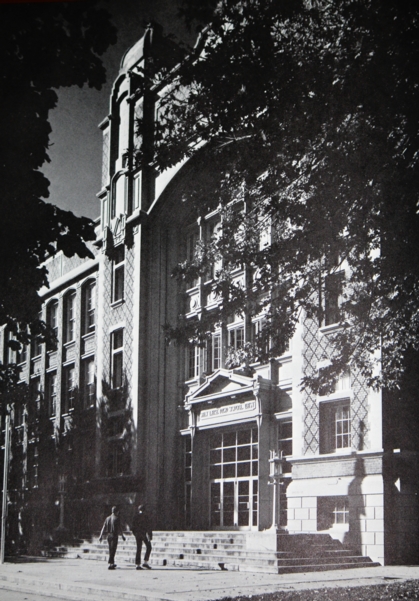 looking back in fragments of reflections:
images of those caught in depression, in elation - unaware.
i see an integrated entity, a whole. many faces captured in a camera,
faces searching or carefree,
faces inspired or laughing,
flashes of many colored moods to remember in contemplation, one face - you.
you are one of many, yet one and your name is youth.
your name is east.
Thank you for being the many faceted visage in reflection,
giving us inspiration for this book (site)-
a mirror for you.
(Susan Leaming -Eastonia '68)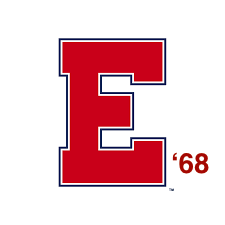 Dear Classmate,
Our 50-year class reunion will be held on August 10 and 11, 2018 in Salt Lake City. If you haven't marked your calendar, please do it now and start making whatever travel plans may be necessary for you to be in Salt Lake with us. We are hoping for a big turnout. We hope you can arrange to be here.
We remind those for whom cost may be a barrier that you have classmates living in Salt Lake who are willing to put you up for the weekend. There is a large group of enthusiasts who seek inclusion of everyone at this 50th anniversary of our graduation from East High.
Please come!
Fondly, your Senior Class Officers,
Doug Mortensen
Craig Theurer
Grace Urry Henderson
In our search for classmates, we are sad to report that 49 of our class have passed away. We believe we have located all but 57 of the remaining members of our 568-student class. Their names are on the attached list. If you have any clue as to how we might reach them, please let us know. You may email us at eastslc1968@gmail.com or use the "Contact Us" link at our www.eastslc68.com website.
If you haven't yet joined the East High Class of 1968 website, www.eastslc68.com, please do. You can be kept abreast of interesting developments in your classmates' lives without losing whatever degree of privacy you wish to retain. Regular updates about our 50 Year Reunion will be posted on the site. Please see our 50th REUNION 2018, AUGUST 10-11, site page for detailed information!
If you have suggestions for what activities the reunion should or should not include, we'd love to hear them, please email or you may vote on possible reunion activities you prefer on the 50 Year Reunion page and/or on the Survey pages.
AUGUST 10-11, 2018.
Save the date
Help us locate our 57 missing classmates
PLEASE come to our 50 Year Reunion - Reconnect 50
East High's Class of '68!
Doug Mortensen
Senior Class President, Class of '68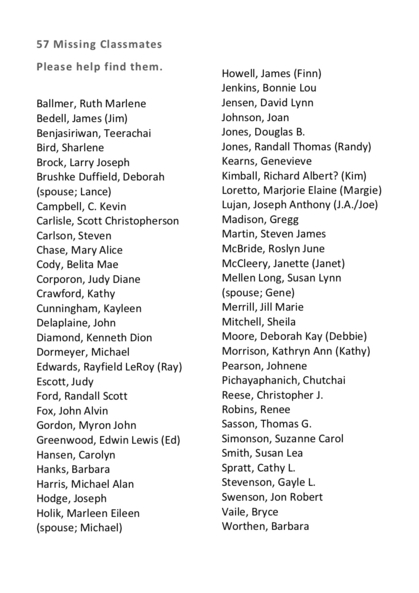 ---
Celebrate the Tradition of Excellence
which is East High.
YOU are a gift of the Class of 1968.
The world is a better place because of you.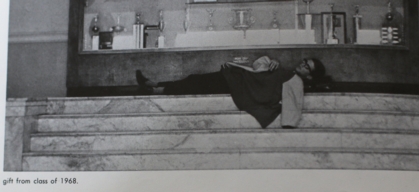 For details on current activities at East:
http://east.slcschools.org
ANNOUNCEMENTS
•

Our website has been online for five years and you continue to fill it with your fascinating profiles, photos and communication. We continue to grow as classmates add their profiles and join our online group, enabling us to contact you quickly when events happen concerning our friends. Your support and response to posts both joyful and soulful have been full of humor, kndness, and thoughtful concern. What a dear group of people you are!

The connections and sharing have been an ongoing delight. Thank you for participating!

You are welcome to join by going to Classmate Profiles and adding your information. Please continue to update your contact information if there are changes, so we do not lose you. Many of you continue to update -thank you! If you know of classmates who have not signed on, please encourage them. Several have been a little daunted by the computer experience.

See more information on the site and navigation at the Site Information page.

Thank you for signing in and sharing your life with us!

If you need help or have concerns or comments, the site email address is:

eastslc1968@gmail.com

Our domain name is

eastslc68.com

site administrator: kristen welling beckstead

(so you know who you are talking with :) )

•

If you enjoy using Facebook, you can do all the things you can do on our class web site from inside Facebook. Class Connection, is the name of the app to access the site through Facebook and you'll find it's very simple to join and use. If you wish to have this additional way to connect, please follow these 3 quick steps:

Log into our class web site at eastslc68.com

Click the "Class Connection" link under Member Functions.

On the Class Connection Join Screen click the blue "Join Class" button and accept the app permissions.

Signing on through Facebook will not affect your usual site access-you may use both. It is an additional way to access the site and conmmunicate with class friends who are on Facebook.

•

Photos from our 40th & 45th Reunions are posted on the East '68 Photo Galleries

Please enjoy the wonderful smiles. Priceless.

Thank you for being such kind and thoughtful friends, always.

We are planning to see you August 10 & 11, 2018 at our 50th Reunion!

We hope you will be there! We can't wait to see you!

+++++++++